Rawr, Rawr, Merawr! Welcome to my CLAW page! CLAW is a wonderful club on the 'net for kitties only, sorry no humans. CLAW stands for Cats Lording Al-Ways! We get to go to Kittengarden or to the University. They have all kinds of classes for things such as grooming, hunting, human studies, feline science, etc..! You can see my degrees by clicking here. I even teach 2 classes on the language of cats and feline mental health! There are also a lot of guilds and societies that you can join. To get an idea of those, you can look at the pages of the groups I'm in. You can make some wonderful friends in CLAW also. I've met so many terrific kitties there. You can also get a big brofur or big sisfur! My big sisfur's name is Minnie Mouser! She's a super nice kitty and she does a lot to help feral and abused kitties. I'm also a big sisfur now! My little sisfur's name is Chimmy. Unfortunately, due to circumstances, CLAW has closed the clubhouse doors as of August 31st. I will miss it terribly *wipes tears with paw*! Anyway, here are my accomplishments during my CLAW experience, which I am very proud of. The CLAW spirit will always go on!

I became a level 2 member on April 23, 2000!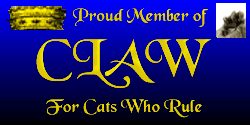 I won this award in the August 2000 Awards Ceremony. Thanks for everything Queen Midnight!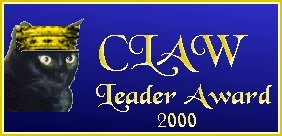 I was a proud co-leader of the FKA in CLAW.


As I said earlier, I taught 2 classes in the CLAW University.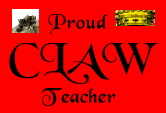 I've won best answer on the weekly topic many times! Here's my award:


I'm a proud reader of the CLAW Zine!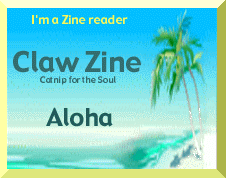 Click to see my Rank Awards from CLAW.
Click to see my Guilds and Groups Page.
Click to see my special Awards from CLAW.