Meows everyone! Thanks for coming to see me :) My name is Oliver. Hmmm, want to hear a little about me? I'm a male grey tabby cat and I'm almost 8 months old, just a little older than Shadow. I was born around March 16th of 2000. I'm very active and love to play, especially with my favorite, catnip mice! I also love the feather on a stick that Sassy and Shadow's meowmie bought me, she is always buying me toys. I live with 2 adult humans friend and 2 kitten humans right now. My meowmie is Aunt CJ's (Sassy and Shadow's meowmie) friend.

We're secretly hoping that I can come here to live soon. My meowmie is thinking about getting rid of me, though I'm not sure why. But Aunt CJ says I can come live with them anytime! She already brings me treats and toys when she comes to visit and gives me much more attention than I normally get, so I think I would love it here.

Would you like to see a couple of pictures of me?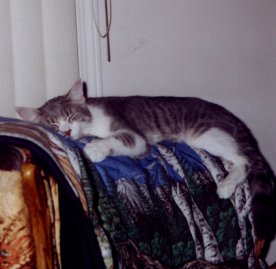 Aren't I adorable?